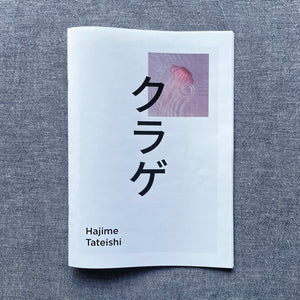 Art Island Center Zine Series, Vol. 2
"クラゲ" (Kurage, or Jellyfish) by Hajime Tateishi
16 pages, limited edition of 40 copies. (Only 10 available online.)
Made on Naoshima in 2021.

立石肇さんは、生まれ故郷である直島の日の出、日の入り、ハート型の雲、花、クラゲ、屋外作品など、同じ被写体を繰り返し撮ります。デジタルで撮影しプリント後、データは削除。一点ものとなった「オリジナル」プリントから更に印刷を重ねることで、新しいテクスチャーや様々なバリエーションが生まれます。肇さんは、直島で出会った人たちに、自身の写真を通して見る直島のお気に入りの風景など、熱く語ってくれます。肇さんの写真はそれぞれの個性を超えて、社会的なプロジェクトとして融合していきます。
Hajime Tateishi returns to the same subjects again and again: sunrises, sunsets, heart-shaped clouds, flowers, jellyfish, outdoor artworks, and other features on Naoshima, the island where he was born. Hajime-san produces small prints of his digital photographs and then deletes the files. Later, he often will make copies or enlargements from these "originals," introducing new textures and other variations. Hajime-san shares his photographs with visitors he meets on Naoshima, describing his favorite elements of the island landscape with infectious enthusiasm. In this way, his photographs transcend their individual characteristics and merge into a monumental social project.